posted by: fla jim
In my previous life in the Navy. I Taught a four week Maintenance course for boiler tech's. Part of that course involved Galvanic corrosion. I had to start with basics if anodes, cathodes, the nobility of various metals etc. I did this with a slide presentation. I was teaching mostly 19-20 year olds. This was back in the all male sea going Navy. No way to make corrosion exciting. I had the training aids people make me a slide out of a pornographic picture ( imagine Paris Hilton, or Monica L.)
I would put the slide in the middle of my presentation ( about the time everyone was nodding off). I'd Just flash it for just a second, kinda like halftime at the Super Bowl. I'd hear a murmur "did you see that", and the class would be more alert through the rest of boring subject matter, wondering if there would be any more?

Anyway Cutter don't sweat it, the Guy at the old machine sight got them switched around while he was explaining it.
In an electrolytic circuit. The Anode is the negative. the Cathode is the positive. In the process iron oxide ( rust) is less nobel than steel, or iron. It becomes dissolved in the electrolyte. and is plated on the Cathode, in this case the rebar. If you let the procedure run for years the vise would dissolve
It's the same process as the Zinc sacrificial anode on a outboard motor. The zinc is less nobal than aluminum. When the motor is in the water a galvanic electric current is established. the current causes the zinc to be dissolved into the electrolyte (water) instead of the aluminum motor foot.
In the Cathodic protection system on water tanks A Dc current is generated with a power supply at about 90 volts with a couple of amps. a series of stainless bars are connected to the negative. this becomes the Anode. But a stainless alloy is a very "Nobel metal, and doesn't dissolve very well, and will last a long time. The water tank wall is connected to the positive. This becomes the Cathode and as such won't corrode (dissolve)
This is the 5:00 A.M. mister wizard show

---

posted by Cutter 03-13-2004

quote:
--------------------------------------------------------------------------------
Originally posted by fla jim
Anyway Cutter don't sweat it, the Guy at the old machine sight got them switched around while he was explaining it.
In an electrolytic circuit. The Anode is the negative. the Cathode is the positive. In the process iron oxide ( rust) is less nobel than steel, or iron. It becomes dissloved in the electrolyte. and is plated on the Cathode, in this case the rebar.
This is the 5:00 A.M. mister wizard show
--------------------------------------------------------------------------------



All I really know or need to know is that the negative clamp goes to the vise & as Franz said, as soon as the bubbles appear above it, the correct polarity is confirmed.The old Wilton has been in the tub for 3 more days now with a steady light rain falling nearly all the time. The positively charged REBAR (screw this anode/cathode stuff) must be a real clumped-up mess by now. I noticed that the meter on the battery charger is hovering down around 1 1/2 to 2 volts but there is still visible movement in the water so there must be some action taking place. Later today I will haul it out again and see what we got. And take some pictures.

I think it is about time to saw a slot in that 3rd broken machine screw & see if I can back it out now, then take a few measurements & start making some semblance of a collar so I can start using the vise screw to apply reversing pressure to the jaw. It just might not require as much force to break it loose with a pulley-puller action. Hanging it by the neck & banging on it seems to accomplish about as much as banging on a stuck pulley.
---
posted by: Franz

Whoa Nellie, FOOD FIGHT Snipe boy!
"If you let the procedure run for years the vise would disolve
It's the same process as the Zinc sacrificial anode on a outboard motor." WRONG


You must have spent too much time watching that slide of the sacrificial Monica and swilling torpedo fuel.

The amazing thing about this process is that it won't continue once the rust is gone!!!


BTW, it also works on corroded brass, just won't shine it up.
---
posted by: Dman033189
Can Someone tell me how to do electrolytic it looks handy to know how to do.
---

posted by Cutter 03-13-2004

quote:
--------------------------------------------------------------------------------
Originally posted by Dman033189
Can Someone tell me how to do electrolytic it looks handy to know how to do.
--------------------------------------------------------------------------------



Here are links to 3 websites that should give you more information than you can use:

http://antique-engines.com/electrol.asp

http://www.owwm.com/FAQ/electrolysis.asp

http://www.stovebolt.com/techtips/rust/electrolytic_derusting.htm
---

posted by Cutter 03-14-2004
Show & Tell, day 6 still stuck
I hauled it out of the vat & spent half the afternoon trying to shake the slide out of the throat, all to no avail. First I tried hanging it by the front jaw again & banging on it with a 2lb hammer & a 2x4. Nothing. While it was in a more or less vertical position I kept the groove around the slide filled with penetrating oil just for the hell of it.

Then my son & I tied a comealong to a stump & chained the vise to a utility pole, trying to get as straight a pull as we could & used a 4 foot cheater on the lever. Not a hair of movement. So back in the tank it went.

There was some good news, though. I Dremeled a slot into the last of the broken collar screws and backed it out with no effort at all. Once I got a few turns on it, I finished it with my fingers. A combined shot of that is inserted below. I will paste together 2 or 3 shots of the present external appearance of the vise in a following post.

Grrrrrrrrrrrrrrrrrrrrrrrrrrrrr. First the damned software said to make it no larger than 800 x 600 so I resized it to 800 tall 356 wide. Still too tall. I guess that means the maximum dimension has to be the width? I'll have to redo the pasteup.
(3 minutes later) Okay, here's 3 postage stamps pasted together:

At this point the external surfaces appear just fine to me. There seems to be nothing left that wouldn't blow right off with a wire wheel. I guess I'll just leave it in the tub for another week & see what happens, after all it's not like I'm desperately needing it to use to keep the locomotive from running over the sexy girl tied to the tracks..... . .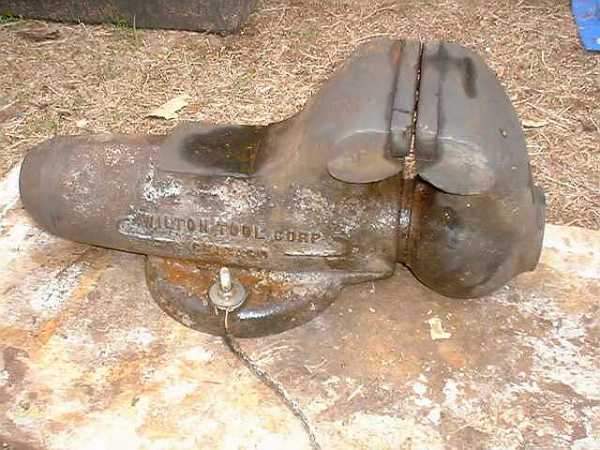 Hmph!!!
I was sitting here, nodding at the keyboard & wondering how this thing could be so (John) Eff-ing stubborn when it occurred to me that every time I took a picture right up the gut, there still seemed to be a lot of rust. Then I realized that I had been laying it on the same side all week. So I began to wonder if the shape of the inside might be trapping air & preventing the water from reaching as much as 1/3 of the cavity? Sure seems likely to me.

So I took a little hand pump out there, purged the air of it and pumped water into the hole; bubbles rolled out of both ends. Now this might not constitute an acceptable test in your lab but it sure made me willing to roll that puppy over and do the pump thing again before going to bed. So I did just that.

Dang! Now I have to get all sleepy again - that water ain't just dirty - it's cold!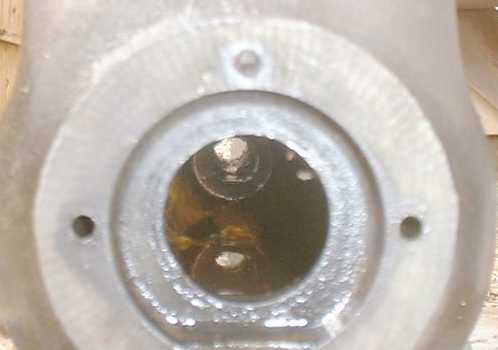 ---
posted by: Franz

Since I been playin this little rust removal game a bit longer than you have,

let me give you a little hint.
use one of those boltholes you just pulled the busted screws out of to make a second attachment to the vise.


When using this process on multiple part items that are stuck, you want a connection to each piece being derusted.
Rust sucks as a conductor of electricity.

---

posted by Cutter 03-14-2004
Will do. Manana.



Thanks.
---
posted by: fla jim
Hey Franz;
What cause the action to stop when the rust is off of the object. Is it the electrolyte your using? I would thing that as long as you have current flowing, whatever was connected to the negative terminal would continue loosing molecules, although at a lesser rate?
---
posted by: Franz
Jim, damned if I know, but probably the electrolyte won't carry iron molecules, only iron oxide.
Try it with a piece of clean steel, NO Conductivity.
The guy who really understands the reaction is Stovepoker, and he can write pages on it, if he ever shows up.
---
posted by: Franz
Here's a breif explanation of what is happening in the tank, complements of Stovepoker.

During the electrolysis, as a general rule ions are being replaced vs elements. So the Ferric Oxide is probably being converted to Ferric Carbonate.
Also any pollutants that are in the original water, and any contaminants on the part being derusted will lend their ions to the mix.
There may be Calcium Carbonate, Sodium Chloride and who knows what else in there.
Basically there will be Hydroxyls, Carbonates, Oxygen, Hydrogen, Sodium, Iron, and maybe some Calcium or Chlorine in the soup. All that will be lost will probably be Hydrogen and Oxygen; anything else will remain in the soup as soluble salts (some Sodium Carbonate and maybe Ferric Carbonate) or as solids which will either precipitate and fall to the bottom, remain suspended in the soup, attach to the anode, or remain on the surface of the derusted part.

I'm just a dummy who knows the process works.
---
posted by: Franz
Cutter, you may want to install an anode inside the tube of that vise, making sure it can't short out, remember the process works best when there is a line of sight relationship between the anode and the rusty object.
---

---