posted by Cutter 03-31-2004
Here is the cylinder end exposed.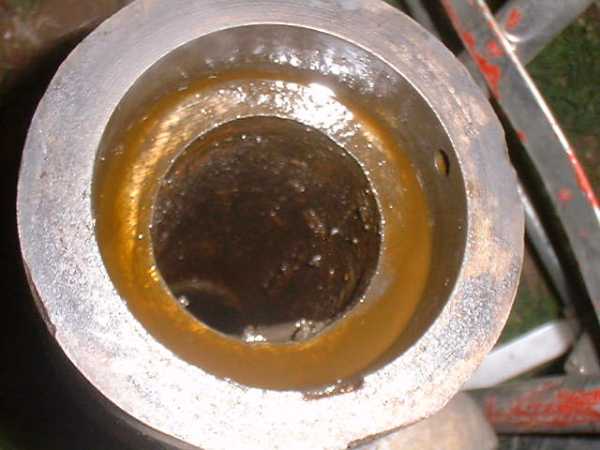 nite vision photo
Oh what the hell, I can take pictures at 4am just about as good as any other time.

Here is the keyway and you can see how tight this thing fits together. As my brother used to say, "fits like Maw & Paw". So I soaked it in Blaster again & came back in the house.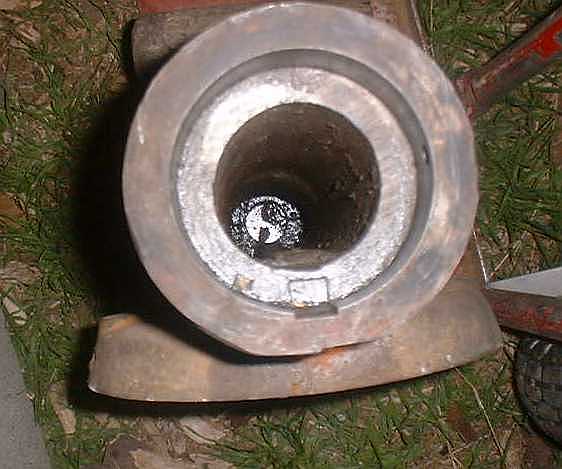 ---
posted by: INTP
Pretty soon, I'm going to start dreaming about it, too. This is a really fun thread to follow.
---
posted by: Bolt
So Cutter,

When are you going to give up and put it out by you're dumpster? I'll figure out where you live by that time and come by and pick it up.

Or, you could just admit defeat, and let me know, I'll come pick it up personally.
---
posted by: 7018
I think u should put it in a press and apply some heat,Sure hope u get that thing apart! Would be nice to see it working again.
---

posted by Cutter 04-01-2004
Thanks for all the comments & advice, guys. This whole thing has been lots of fun for me & I can't get over the amount of interest this thread has stirred up. 4,000 hits and counting? That's phenomenal. Your participation has made this so much more enjoyable for me; I feel like I am the custodian of some kind of historical restoration project where the world is watching and pulling for the old vise to come through a crucial surgery or something. LOL, the only thing is I feel like I can't quit no matter what happens now; you would all never forgive me so failure is unthinkable.



Paul, I would love to be able to put it in a press but I can't quite imagine how to jig up to do that; the thrust would need to be in a straight line and that means I would have to build something to hold the main casting by the stationary jaw assembly. I've never seen a small press designed to accommodate such a riggin'. That would be another project in itself.

So I am going to try to implement Franz's suggestion & use an airhammer to try & shock it loose. Last night on my way home I stopped by the shop/barn & cut a steel disc out of 1/4 inch plate to mount directly against the back side of the slide, and grabbed an airhammer while I was there but it was way after dark before I got home. So first opportunity I have, I will give it a go. It seems like that if I can ever get the thing to move at all, the rest will be downhill.

I made a discovery while I was at the barn. Watch for new thread "coming soon to a theatre near you" about a Baby Wilton machinist's vise.

---
posted by: rusted
LOL more vices (sic)? This is the kind of thread that makes a msg board. I can't wait to see this baby in action.
---
posted by: Franz
Go gently Cutter on the trigger of the air hammer, and remember,
Always use Uncle Franz products with the secret ingredients.
---
posted by: Banzaitoyota
Can I have the Uncle FRanz Miracle Powder Franchise for the SE region of the USA?
---
posted by: Franz
Only if you can slide over to Marbury, Al and dispose of my wife's daughter. I don't care what you do with her, as long as she completely disappears.
---
posted by: Banzaitoyota
I do have access to a crematorium

---
posted by: 7018
Well cutter try not to keep us waiting to long. I don't know about the rest of the guys,but i would like to see that vice working!!!!
---
posted by: John Deere
Hey, I had just took a look at this post today, and what a deal.... We have that exact same vice bolted to the work bench in our shop..... Its brand new to.... That is one heck of a vice if ya get it workin....... I cant wait to see her... lol Good luck Cutter!

John Deere
---
posted by: OlPilot
Hey Guys, it's a vise, not a vice. We all have our vices and some people, like Bill Clinton, have more than the normal share.
---

---